National Association Women on the Rise 2012 Expert Coach
Veronica Conway, CPCC (Certified Professional Co-Active Coach) Often dubbed "The Secret Weapon" by her clients, Veronica is an award winning entrepreneur and founder of three coaching companies, including the Black Professional Coaches Alliance, the only coaching organization dedicated to the transformation of people of African descent.
Veronica works with business owners (start ups or seasoned), executives, world leaders, and other peak performers that want to transform mental internal barriers that prevent them from realizing their greatest financial and personal potential. She also works with parents and college bound students who want to obtain high quality education, at the high school and college levels, and that want a powerful path for accessing and funding the best education that money can buy.
Veronica is the only expert offering The 90 Day Breakthrough, a step by step coaching program that facilitates participants in accomplishing a massive outcome in a 90 day period. She has coached everyone from truck drivers to CEO's, athletes, artists and celebrities. Veronica has more than 4000 hours of personal, business and financial coaching experience. She specializes in proven technologies that create accelerated performance and an unprecedented competitive advantage.
A dynamic and provocative keynote speaker, trainer and facilitator, she has consistently impacted national audiences with her playful, edgy and transformative presentation style. She has spoken to groups such as Chevron Texaco, the NBA, FraserNet, the National Black MBA's, The National Urban League, and many others. She has served as the Official Conference Coach at numerous national conferences.
Veronica's client roster includes Dell, the NBA, the Kellogg Foundation, the City of Oakland, the Annie E. Casey Foundation, The United Way, Triumph Technologies, The May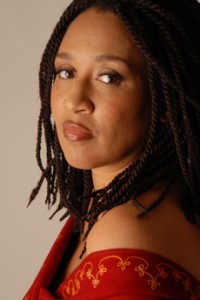 a Angelou Charter School, and many others. She has created revolutionary programs that have transformed the finances of low income, inner city clients, as well as the bottom lines of multimillion-dollar companies.
Veronica overcame a challenging and colorful childhood and went on to live her life purpose and to support others in doing the same. As a young child she attended school under an alias, witnessed police shootouts and experienced death threats against her life. Her life story is the subject of a documentary: Daughter of a Panther: Revolution to Evolution. Veronica is the creator of the ground breaking program The Black Mastery Success Program, the first audio program designed to eliminate "victim think" in people of color. She is the co-creator and co-author of The African American Guide to Business and Personal Success, as well as the author of the cutting edge manifesto "The Black Paper." She is a blogger for The Huffington Post.
Veronica is a certified coach, as well as a certified hypo-therapist and master certified NLP practitioner. She is a Master Business and Financial coach, a seasoned facilitator and a certified mediator. She is a founding member of the International Association of Financial Sports and Celebrity Advisors. She serves on the national steering committee of the National Cares Mentoring Movement, which was founded by Susan Taylor, Chairman Emeritus, Essence Magazine. She graduated from the University of California at Berkeley. She resides in Northern California with her daughter, Jordan, and her son, Jake.
Contact
Website: http://www.veronicaconway.com/
Facebook: http://www.facebook.com/veronica.conway
Twitter: https://twitter.com/#!/veronicaconway
LinkedIn: http://www.linkedin.com/in/veronicalconway
Check out The Black Paper